10 Cool and Affordable Kitchen Gadgets You Actually Want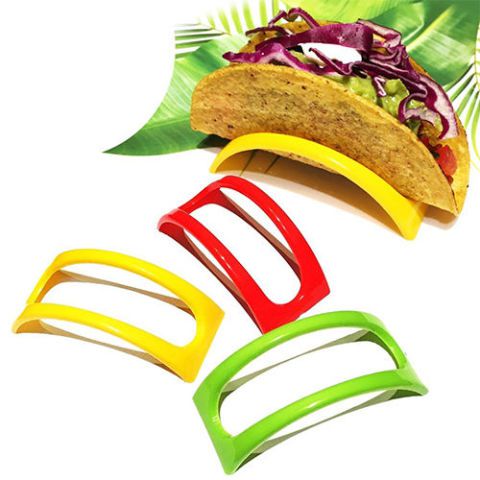 1. Set of 12 Original Taco Holders
Colorful, non-toxic, microwaveable and freezable taco holders for both soft and hard tacos.  Just put in the shell, load it up, and enjoy!
2. Whisk Wiper
A fun gadget that wipes the whisk and bowl in seconds
3.

Kitchen Gizmo Snap 'N Strain Strainer
An easy to use clip-on strainer allows you to easily drain your pasta without a mess
4. 

Grillaholics Stuffed Burger Press
Makes perfect, round patties and stuffed burgers either inside on a pan or outside on a grill. Enjoy!
5.

OXO Good Grips 3-in-1 Avocado Slicer
All-in-one tool splits, pits and slices avocados
7. 

Taiyaki Japanese Fish-Shaped Hot Cake Maker
Easy to use fish-shaped pancake maker.  Enjoy your morning catch!
8. 

Dachshund Dog Corn Holders
Poke the stainless steel dogs into each end of the corn, and keep your fingers cool
9. 
Divided Grill/Fry/Oven Meal Skillet
Cool your entire meal on one burner, nothing touches, ever!
10.

The Original Never Soggy Cereal Bowl
Keeps your cereal and milk separate, so cereal never gets soggy