Home Made Sangria Recipe
by
Investible Collaborator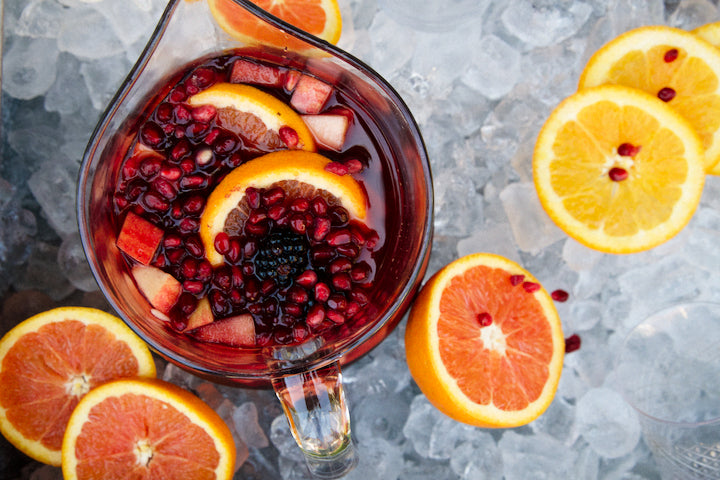 Easy to follow recipe for delightful, refreshing sangria
INGREDIENTS
3 cups pomegranate juice
5 (3-inch) cinnamon sticks
1 teaspoon ground allspice
1 (4-inch) piece peeled fresh ginger, thinly sliced (about 3/4 cup), divided
1 bottle red wine
1 pear quartered lengthwise, thinly sliced crosswise
1 naval orange or 2 clementines, peeled and diced
1/2 cup pomegranate seeds
1/2 cup spiced rum
1 bottle pear or apple sparkling cider, or sparkling wine
DIRECTIONS
Bring pomegranate juice, cinnamon sticks,

 

all

spice, and one-third of ginger to a simmer in a small saucepan over medium-low heat. Cook 10 minutes, then remove from heat and let steep 10 minutes.
Strain pomegranate mixture through a fine-mesh sieve into a pitcher, reserving cinnamon sticks. Add wine, pear, citrus, pomegranate seeds, rum, reserved cinnamon sticks, and remaining ginger and stir to combine. Cover and chill at least 4 hours.
To serve, fill pitcher or punch bowl with ice and pour sangria over. Top with cider or sparkling wine.
Optional:

 

Dip glasses in orange juice and rim with 

all

spice.
Do ahead:

 

Sangria, without fruit, ice or cider, can be made 1 day ahead. Cover and chill; add remaining ingredients right before serving.
ENJOY!!!