An Easy Dip Recipe That's Full of Flavor
by
Investible Collaborator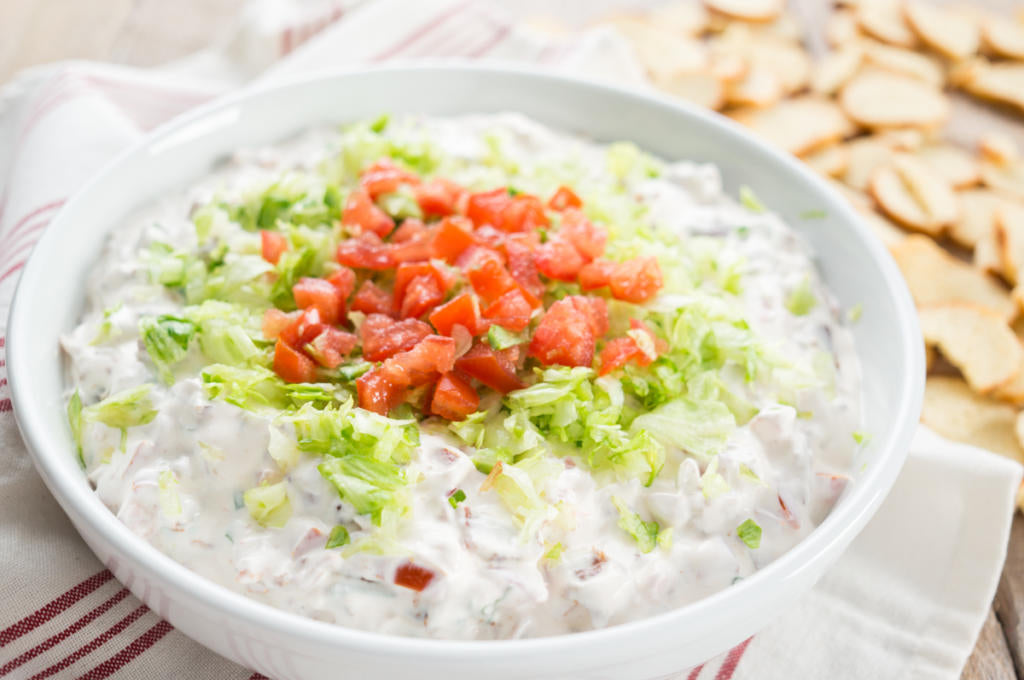 Bacon makes everything better. At least that's our opinion. There's something about the smell, the crunch and of course, the taste. 
Bring this easy BLT Dip recipe to any party and you'll be a hit, mainly because you walked into the room with two pounds of crumbled bacon. Trust me, our kitchen was quite popular as people dropped by to see what was cooking.
It doesn't get much easier then prepping this dip. Cut the tomatoes with the Traditional Cheese Knife – it's not just for cheese.
To prevent too much liquid from the tomatoes getting into the dip and making it runny, completely seed the tomatoes.
I took an added step of placing a paper towel over the chopped tomatoes to capture the excess liquid. For thinly shredding the lettuce, the 9-3/4″ Slicer works great.
I used the Turning Fork to flip the bacon strips, which I cooked up in the 12″ Gourmet Fry Pan.
Once everything was combined, I placed the BLT Dip into the refrigerator for a few hours for the flavors to blend. It's worth the wait.
This recipe is super easy to make. Your biggest challenge will be making sure people don't eat the bacon before it goes into the dip. There wasn't a great deal of talking as the team managed to polish off the entire bowl. As a colleague stated when she walked into the kitchen, 'it was a chorus of crunch."
INGREDIENTS
2 cups (16 ounces) sour cream
1 1/2 cups mayonnaise
2 pounds sliced bacon, cooked and crumbled
6 plum tomatoes, seeded and chopped
4 green onions, chopped
3/4 cup shredded lettuce
1 plum tomato, seeded and chopped and set aside for garnish
Bagel chips
DIRECTIONS
In a bowl, combine the sour cream and mayonnaise, bacon, 6 tomatoes and green onions. Refrigerate for at least one hour.

When ready to serve, sprinkle the shredded lettuce on top, putting the final chopped tomato in the middle of the dip. Serve with bagel chips.